Capricorn Sports offers outstanding kayak classes by teaching a unique combination of paddling techniques and safety skills. All classes are taught in small groups of 4 or less by the owner, Denny Lee.



Denny has had a
Special Use Agreement with Arkansas Headwaters Recreation Area (AHRA) since AHRA began

You can expect to come out of a one-day class of instruction with a solid foundation of basic paddling strokes, river-running skills, safety knowledge, and a good understanding of general boating fundamentals. The small classes also provide for intensive individual instruction.

Be sure to check out Denny's Blog for the latest announcements,
river info, upcoming events, and tips!
Quick Link to Wellsville Gauge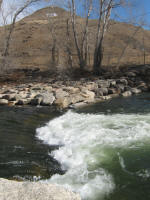 Salida Boat Ramp Surf Hole